Maksida Vogt meets Dr. Hiltrud Straßer
Hufklinik Tübingen
When we look around in the horse world, the first thing we can notice is, there are so many different methods on hooves. This is highly strange then we can assume that hoof is and organ and it needs certain treatment in order to function properly. I think everybody can agree on this, but what is the reality around us?
Even in horse friendly environment such as open barns we can see shoed horses. One antique treatment of the horse's hooves, which has nothing to do with friendliness to the horses nor with the knowledge or interest for the health of those wonderful animals. Do our farriers have so little knowledge on hooves that they literarily know not what they do? To shoe one hoof means to do bodily injury, so how it is allowed to them to treat hooves of the horses? And if we ask the farriers to this, we will get no answer then they indeed know not what happens inside the hoof. If you will forgive me saying so, but I would never trust the hooves of my horse to one farrier by such lack of knowledge they show.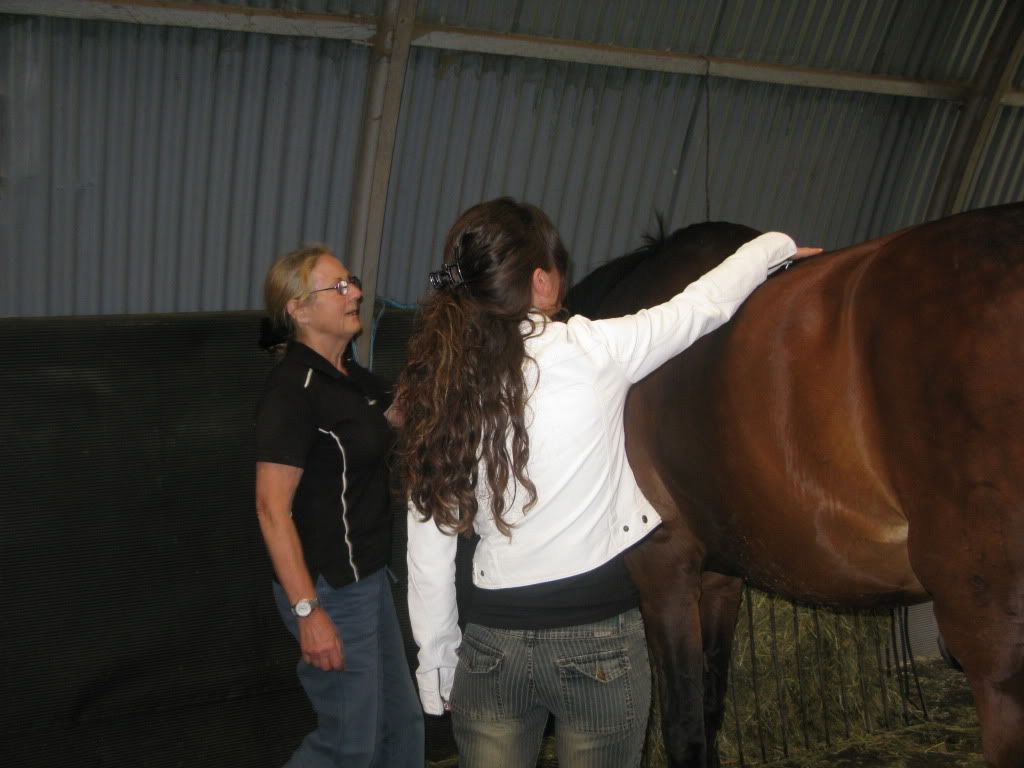 Dr. Hiltrud Straßer, Maksida Vogt
Well, but one does not stop wondering if you open the anatomy books (anatomical textbooks), because there are shown also shoed hooves with contractions. I do not know about others, but I certainly never have seen shoed foal coming to this world, so it is really confusing speaking honestly. Pardon me if I doubt the knowledge about hooves by such professors who write those anatomy books, but how can I rely on their knowledge if they suggest "orthopedic" shoeing as a healing method?
Fortunately more and more horse people get to understand that one ill hoof, which does not allow normal movement to the horse only happen to get worse through shoeing, but never healthy again. The pain might disappear because hoof does not get enough blood anymore and gets numb, but it should be clear to everyone that damage in hoof happens further, unnoticeable because horse does not show the pain anymore.
Maksida Vogt, Dr. Hiltrud Straßer
Dr. Hiltrud Straßer is pioneer on this matter and espouses clarification about health of the hooves for decades already. In her Hufklinik in Tübingen impossible becomes possible thank to her excellent expert knowledge, which has its basis in anatomy, physiology and histology of limbs, as well in the fact that each healing requires increased blood circulation and increased metabolism.
Navicular disease means death for the horse in the most cases because many vets lack the knowledge about function and nature of the hoof. They suggest often to use "orthopedic" shoes on such horses and with this every chance to get the hooves healthy gets lost through the decreased blood circulation. They give to the horses painkillers and the whole situation gets even worse. Healing is impossible to reach this way and horse "has to" be put down at the end.
But it is very easy to treat this disease if one has necessary know how and in the Hufklinik most horses with this diagnose walk normally after two months of treatment. The reason why this disease appears at all is to be explained through three factors affecting the hoof: shoeing the hooves, too long and high bars and to much solar horn, which all three do not allow physiological correct function of the hoof and pinch off the blood vessels. Letting the heels grow too high, the blood vessels get pinched off by navicular bone. The heels are getting higher as to escape the pain, the horse tries to put less pressure on the heel and therefore more on the toe by pulling with muscle energy the tendons high; the angle between the coffin bone and middle phalanx decreases, causing the navicular bone to close off the Aa. Digitales more. This results in congestion above this point and enlargement of arteries.It is very logical that here one process is happening in the hoof which causes damage and changes and leads to navicular syndrome. Thank to the knowledge of Dr. Straßer it is possible to help those horses by proper trimming and and living on rubber flor for a few weeks.
To mention one interesting story which I get to hear by Dr. Straßer, she noticed that Lippizaner horses by the Vienna Spanish Riding School have wrong physiological hoof form, and as it seems many stallions have problems with the hooves. Dr. Straßer wanted to help, so she offered that two stallions who have problems should be sent to the Hufklinik and she will take care -without charging salary- that they get healthy again. This generous offer has been rejected by the Spanish riding school with the answer there is no need for this.
Well, this hopefully gives some food for though and I say simply, thank you dear Dr. Straßer, for her indefatigable dedication for the welfare of the horses. Many people look up at You. Thank you.
Books by Dr. Straßer:
"Shoeing- a Necessary Evil?"
"A Lifetime of Soundness"
"The Hoofcare Specialist´s Handbook: Hoof Orthopedics And Holistic Lamness Rehabilitation"